.Website has been renewed until November 3, 2017 - Christopher
August 28, 2016

Visit my home Temecula Valley



Circa 1935

In my Vision the theremin was revealed as art, stand alone simplicity revealing beauty. The pitch rumbled low, yet sang with the angels. Arm and hand movements control the range of volume, octave change and pitch. It is interesting to me that a beautiful sound is easier to play. It is as if the theremin finds joy in expressing herself. This theremin is reality and affordable for those who wish to share in the dream of Lev Sergeyevich Termen . . . Christopher November 15, 2003

www.Hwy79.com

---

I think the EtherWave Standard is the best starting point for building the finest theremin of all time. It has ideal response, it is a solid build and has the best resale value. It just needs my special upgrade to achieve vocal brightness.

My journey has always been about capturing the

Classic Analog Theremin Sound.wav 2 meg

Those digital theremin designs with their dry or muddy whistle miss the beauty of it all.

.Below is My Analog Harmonic Exciter board which adds harmonic brightness


Size 3" x 3" - mounts under the box.

New 3.20.16 EWS Solid-State.wav , this is raw with no reverb and direct to sound card.

Switched On Clara
webpage

Build a pitch/volume theremin better in design & sound than Clara Rockmore's, under $200

- Have the full range of classic theremin sound from beautiful flute to Clara to violin -

Post your interest in my Chat Forum.
.
My friend had a nice whistle with his electro-theremin or what he just called The Box.
The Tannerin of Master Builder Tom Polk is an excellent design, construction and sound.
.
Avoid any webpage, theremin design or designer that can
not demonstrate any sound samples to validate their design.
This lack of is common practice among engineers that thought this was easy yet
they never could get any of their own stuff to work properly.

- My interest is moving in this direction, visit my first project -

---

Some Basic Theremin Builds

The Thierrymin
Good

Opto-VCO
Clever

The Audurino Uno
Excellent

My Opto-VCO has pitch & volume control with better sound than the other two links. It is the engine to build an Optical Theremin, Electro-Theremin/Tannerin or Cello and have that sweet sound.

---

Below is the finest and most desired of all theremin designs!

Practical Moog EtherWave Standard

This is the theremin a classical player will really want!

Using my Clara Rockmore Add-On Authentic Sound Mod

Coming Soon!

---

Purchase EtherWave Components
Genuine Moog Music

EtherWave Std Tips & Tricks
Everyone Should Learn To Tune it
The theremin is the only musical instrument played without touching anything!
.
. /iframe width="854" height="480" src="https://www.youtube.com/watch?v=9Sy00Dx274I" frameborder="0" allowfullscreen>
---
Below are creative Phoenix designs by Master builder Dana Abbott.

The time has come in the new millennium to evolve into what a true theremin design should demonstrate.
A design that allows the audio/visual expressions of the Thereminist to be intimately experienced.
Notice the clean lines of Dana's designs with no dangling cords, they exit out the bottom.
.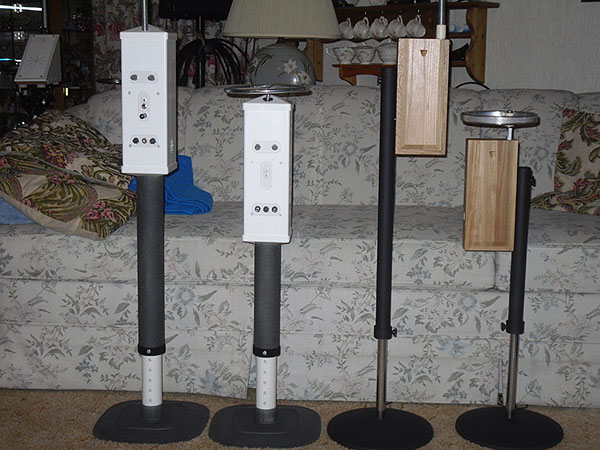 "The foolish will tell you it is the way the theremin is played that develops the interesting voice...
without mentioning you need to have a good sound first."